INCURSIONS
Programs Include:
• Cultural Talks
• Yidaki (Didgeridoo) playing/meditation
• Traditional fire making display
• Spear throwing (space permitting)
• Boomerang throwing (space & weather permitting)
• Presentation of artefacts
• Presentation of traditional bush tucker & medicinal plants (Additional fee of $50 for the collection of plants)
• Bush Garden (additional cost if we source plants)
• Animal totem dancing
• Professional development training
• Corporate engagement packages
• Exclusive Weekend camps
• Personalised wellness and healing
Half day (up to 4 hours) – Starting from $600.00 + GST
Full day (up to 7 hours) – Starting from $800.00 + GST
EXCURSIONS
Program Includes:
• Guided walk and Cultural talk
• Presentation/talk on native bush tucker & medicinal plants
• Yidaki (Didgeridoo) playing/meditation
Cost – Beginning at $600.00 + GST per walk excluding Bushrangers Bay (POA)
Discounts apply for 2 or more walks on the same day.
(Maximum of 30 participants per group)
YIDAKI (DIDGERIDOO) LED MEDITATION
30-minute Group Yidaki led meditation – $400-$600 + GST per group (depending on group size)
One on One Yidaki meditation & healing (1 hour) – $400 + GST Per Person​
SMOKING CEREMONY/ACKNOWLEDGMENT
Smoking Ceremony with Acknowledgment of Country (30-40 mins) (no limit on numbers) – $650 + GST per group

House cleanse-smoke clearing ceremony – $400 (For large commercial venues please contact us for pricing)

TRADITIONAL WEAVING WORKSHOP
Adults – $75 + GST
Kids – $50 + GST (ages 10 – 16)
PLEASE NOTE: The prices quoted above are for Mornington Peninsula/Frankston based schools and organisations only. An additional fee of $25 per approx. 20km (one way) if location is outside the Mornington Peninsula will apply e.g. if the location is Dandenong (approx. 40 km from Mornington) the fee will be $50.
Programs & prices are subject to change.
For T&Cs click here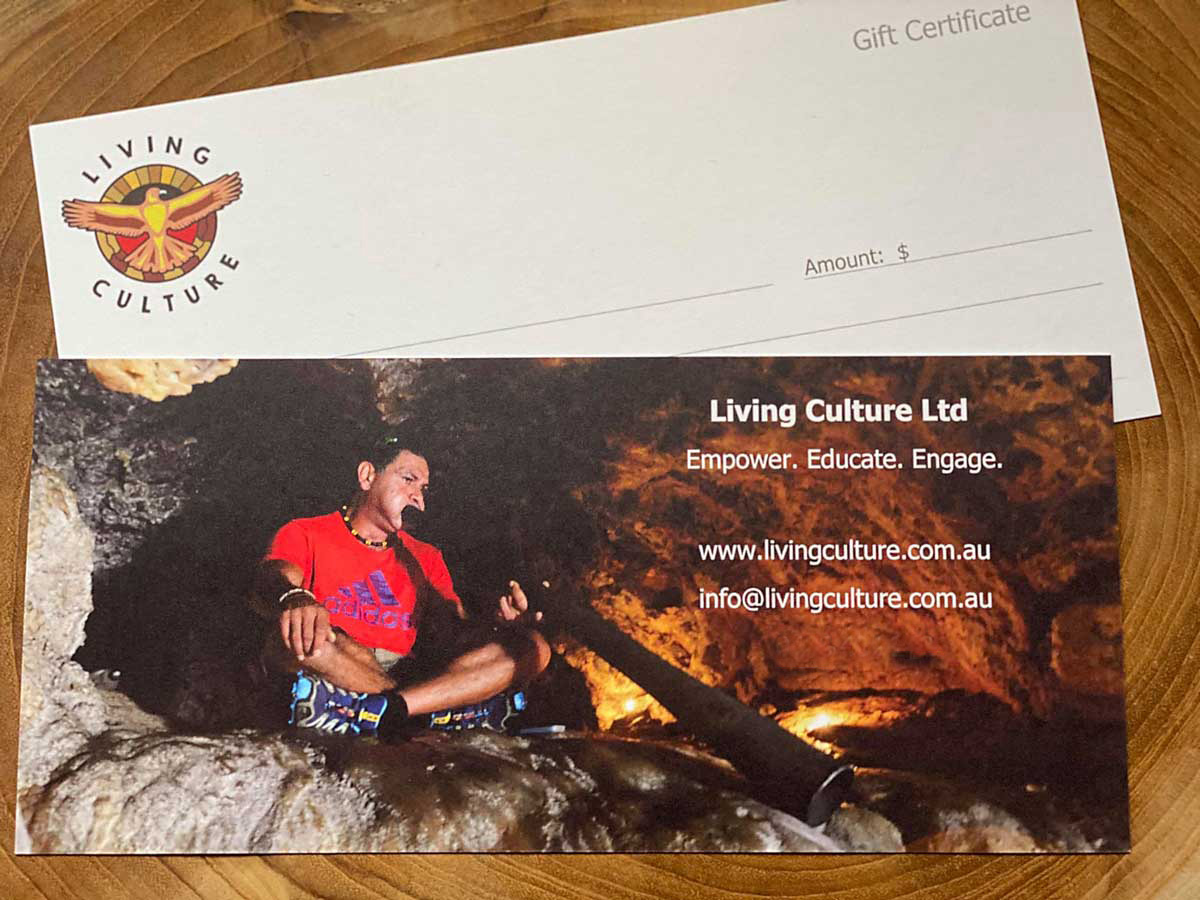 A GREAT GIFT IDEA
If you would like to give someone a special gift; the perfect present for anyone and any occasion then consider a gift certificate for a Living Culture walk, yidaki meditation or a workshop. Shoot us an email with your details and we'll get back to you with a tailored certificate.