Living Culture offers a variety of guided walks for all ages and abilities, all of which take place in a variety of stunning coastal and bush settings of the Mornington Peninsula. Rich with indigenous significance and abundant with native fauna and flora, your guide will point out the plants and areas of interest along your walk and their use and significance in medicine, bush tucker and Indigenous culture. Yidaki-led Meditations with Lionel Lauch are available upon request for the end of Walk.  Fee applies
On our guided walks, our aim is to empower, educate and engage all different folks from different backgrounds and ages and bring them in close contact to the land. On our walks we can show in a practical way, what the traditional people have known and used for everyday food, medicine and utensils from the bush, in an ancient time where no modern amenities were available. We explain and show the use of artefacts and different things that the land has to offer. We have been guiding our walks for groups of children and overseas visitors and it is great to see the look of amazement on their faces when learning about Indigenous Culture. Please refer to our testimonials and reviews to hear some of these experiences.
GREENS BUSH, MAIN RIDGE
(CIRCUIT)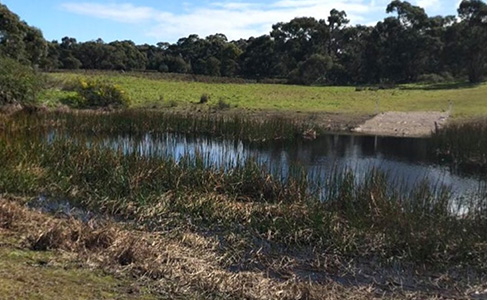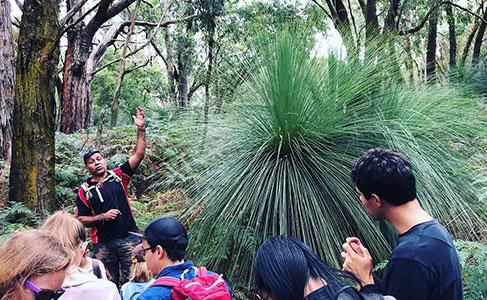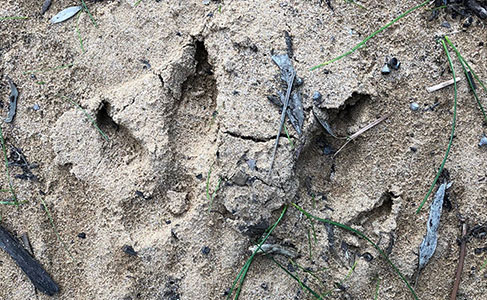 Meeting at the end of Greens Rd. Come on an adventure through some of the most diverse vegetation and impressive scenery on the Peninsula. Located in Greens Bush, only 90 kilometers from Melbourne, and amongst Mornington Peninsula National Park – one of the most highly rated National Parks – you are sure to enjoy this splendour!
Surrounded by fern gullies and eucalypt forests, you will come across abundant wildlife, especially birds. Keep an eye out for honeyeaters, parrots, wrens, wedge-tailed eagles, and black-shouldered kites. The native grass trees are also a particularly striking attraction of this area – some of the taller ones are over 200 years old.
3 km (3 hours) – Gentle
BALDRY'S CROSSING, MAIN RIDGE
(CIRCUIT 1 or CIRCUIT 2)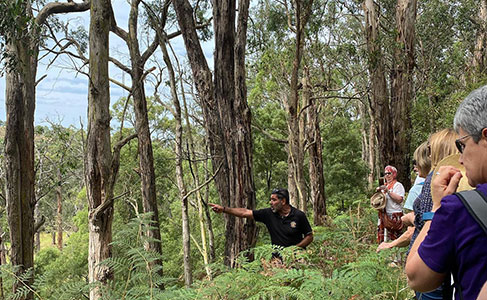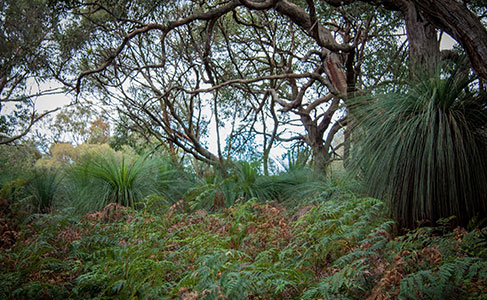 Meeting at the Baldry's Crossing Picnic Area, this track follows alongside the course of Main Creek through a section of the Greens Bush area of the Mornington Peninsula National Park.
This idyllic location is sheltered from the wind and protected from the sun, with great walking tracks, fern gullies and impressive eucalyptus forests combined with the tranquil Main Creek at your feet.
Kangaroos are often sighted in adjoining paddocks. Birdlife is also abundant. You'll want to stop and listen! Parking and bins available.
Circuit 1

  1.5 km (2 hours) – Slightly hilly, slight inclines
Circuit 2

  3.2 km (3.5 hours) – Longer distance. Moderate fitness required.
NUMBER 16'S BEACH DIVIDE, RYE
(UP & BACK)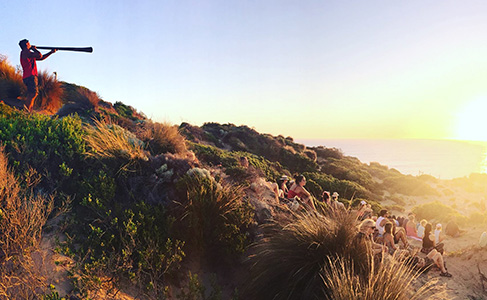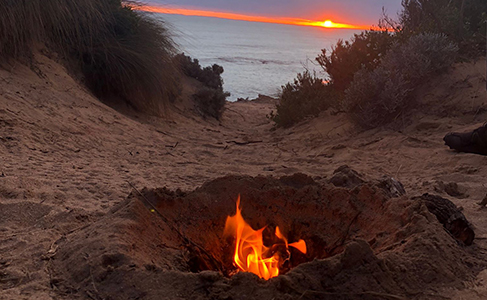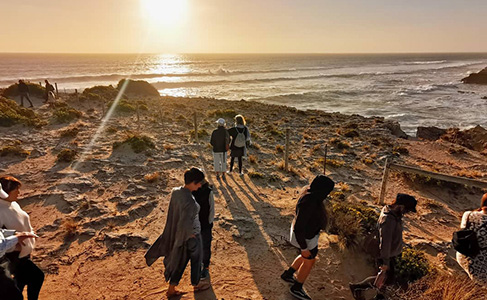 Meeting at the Number 16 Beach carpark, this walk begins on sandy coastal bush tracks that offer a landscape filled with bush tucker and medicine plants.
You will be lead through the dunes to ancient sweeping windswept clifftops overlooking the Ocean where Lionel will share with you in a Yidaki led Meditation in a protected area that provides views that no camera can capture.
Peregrine falcons nest here and bush wallabies live in the Parks lands we walk on for this walk. This is one of the Peninsula's most precious hidden gems!
2 km (2 hours) – Gentle with uneven surfaces.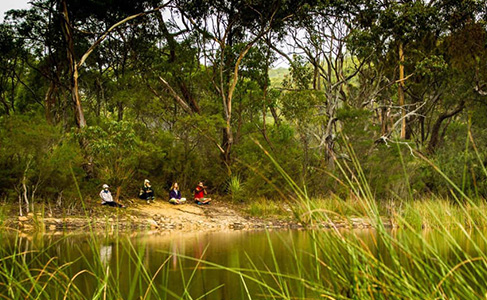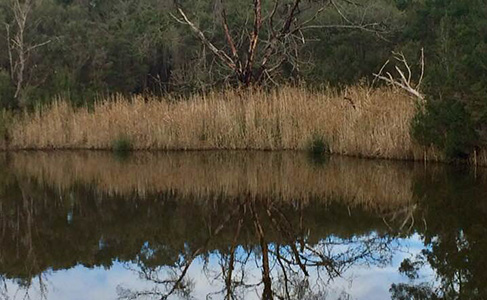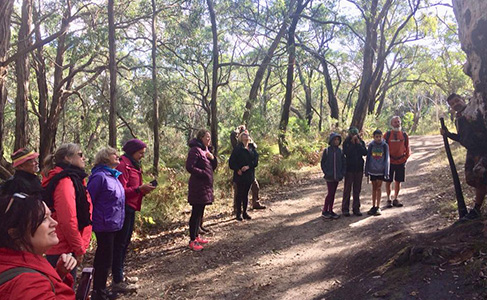 Meeting at the top entrance of the OT Dam on Arthurs Seat Rd (200 meters west of Main Creek Rd)
This is where we first began holding Listen to the Land guided walks. Based at Wonga (Arthurs Seat) this beautiful circuit walk through scenic and peaceful bushland to the OT Dam.
Lionel has walked this since he was a child and shares many memories of growing up here.  Rafts, slingshots, spears, yabbies, fishing.  When he ran away as a kid he came here.
Approx 3km (3 hours) Picnic area.
THE BRIARS, MT MARTHA
(CIRCUIT 1 or CIRCUT 2)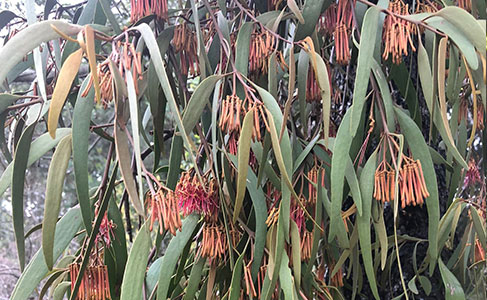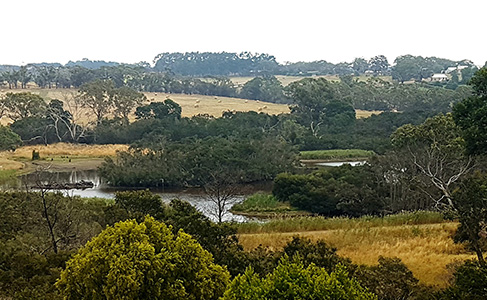 The Briars Parks is home to abundant native flora and fauna. Vegetation varies with Woodland and Wetland walks and short link walks providing amazing opportunities to experience nature at its best in this beautiful property.
A range of walks can be accessed via this property and we begin each of our guided walks at the Visitors Centre.
There are also a number of walks around the larger farm property outside the Sanctuary that is available every day, including a 350 metre boardwalk leading to the Boonoorong and Chechingurk hides where you can view the amazing birdlife at the Briars.
The area, once part of the farm, has been planted with indigenous species and includes several wetlands built on the Balcombe Creek floodplain. This walk can be extended by linking to the Tichin-Goroke Link path.
Please note that the Viewpoint is not wheelchair accessible. There are four free electric BBQ's near the Visitor Centre with picnic tables and bench seats available for use. Toilets available.
Circuit 1

Approx. 5 km (3.5 hour)
Circuit 2

Approx. 2 km (2.5 hour)
BUSHRANGERS BAY, CAPE SCHANCK
(UP & BACK)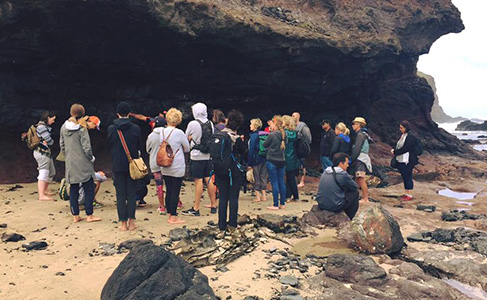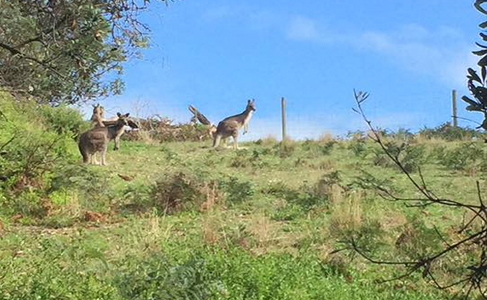 Join us for a guided walk through Bushrangers Bay in Cape Schanck.
We meet amongst beautiful coastal banksia at Bushrangers Bay Picnic Area and begin the walk to the serene sandy shores of Bushrangers Bay. The hidden bay is surrounded by basalt cliffs and brooding headlands pounded by the rough surf of Bass Strait.
Our guides will educate everyone in an easygoing manner on bush-tucker, medicines, share knowledge of Indigenous culture & this ancient landscape.
Feel free to bring a packed lunch as we will stop for a short break once we get down to the beach.
This area has much cultural heritage to share and we will assist you to learn more about how this land provided for the Bunurong and Boon Wurrung people.
5 km (4 hours) – Good level of fitness required. Relatively steep incline on the way back up from the beach with lots of steps. This walk will raise your heartbeat!
BALNARRING BEACH, BALNARRING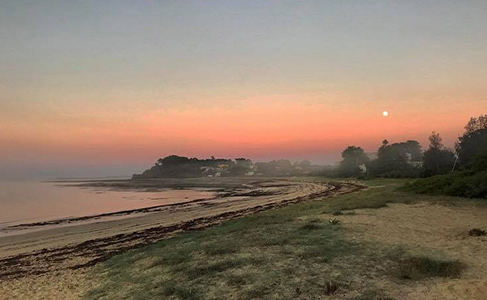 This Bayside location offers a setting with easy walking tracks.
We follow Tullum Creek where you will learn about the freshwater aquatics of the ecosystem and area. Toilets nearby.
1.5 km (2 hours) – Gentle with moderate incline.
McCRAE FORESHORE, McCRAE
(UP & BACK)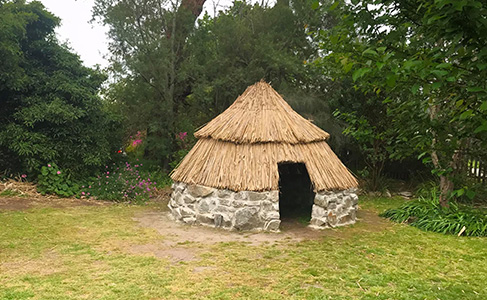 Meeting at the McCrae lighthouse carpark. This walk is all mobility and wheelchair friendly.
Lionel shows you where cascading waterfalls filled the rock pools and into Nairm.  A special place, always was, always will be. This walk takes you through the beautiful foreshore of McCrae surrounded by an array of native flora including Banksia, Clematis and Flax Lily.  The history of this vegetation allows Lionel to educate and share how this land has provided for a Millenium for all inhabitants.
We also hold Dog Friendly walks at this location at selected times (pet-friendly events will not be able to visit the Willum)
WALK COMBO'S
• Beach and Willum
• Beach with Dogs (all dogs must be on a lead at all times-including the pet friendly yidaki session)
• Beach only.
1.5 km (1.5 hours) wheelchair access – Gentle.
ENDEAVOUR FERN GULLY, RED HILL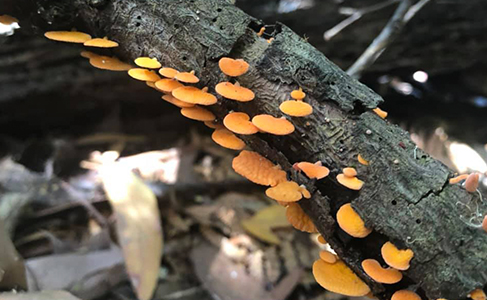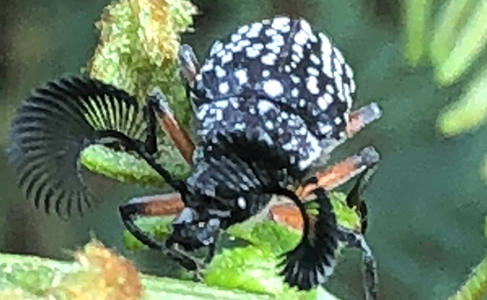 A short walk when measured by distance. Endeavour Fern Gully is situated within 27 acres of remnant bushland.
The entrance is hard to spot-please refer to google map ref for meeting point.
After a short distance from the car-park we begin a steep descent into a rain forest that is lush with ferns, tall native gums and a gully rich with cultural heritage & abundant native flora and fauna.
A walk with our guides opens a deeper understanding and connection with this quiet wonderland.
1.5 km (1.5 -2 hours)  – Sloping descent, boardwalk trails .
ABILTY – Dependent on walk duration, however no walk is particularly difficult. Please refer to individual walk locations.
WHAT TO BRING – Please wear sturdy trainers or walking shoes, a hat and sunscreen and bring large bottle of water. We also recommend bringing a small towel or blanket for the meditation. For evening walks, please bring a torch if you have one. Ensure children are suitably dressed and equipped with water. If you have any allergies, especially to insects, please bring your epipen and notify the staff prior to walk commencing.
DOGS – we have a designated dog friendly walk. Please feel free to bring your beloved pooch! Dogs are not allowed on any other walks due to restrictions on dogs in the designated walking areas. You will take full responsibility to control your dog at all times.
PHOTOGRAPHS– Please feel free to bring your camera! All we ask is that you respect your fellow walkers and refrain from photographing them without permission or during meditation sessions. We love to see your photographs and enjoy sharing them on our website with permission. No filming is allowed.
IN-HOUSE PHOTOGRAPHERS – We sometimes have our own photographer join us on walks. You can decline having your photograph taken at any time, which we will happily respect.
CHILDREN – Children are our creators and the voice of the future. The more they learn, the more knowledge can be passed down through generations. We invite you to bring children of all ages, even babies. Please be mindful of the weather however, particularly at the height of summer.
PLEASE NOTE: If the walk is cancelled due to weather conditions, we will post an update on our Facebook event page. We can also notify you of upcoming events, walks and updates via email, click here to join our emailing list.
We walk these locations with the support and authorisation from the relevant governing bodies; Parks Vic, Mornington Peninsula Shire Council, and National Trusts.

Living Culture holds public liability insurance to ensure the safety of our guests on all engagements with us.